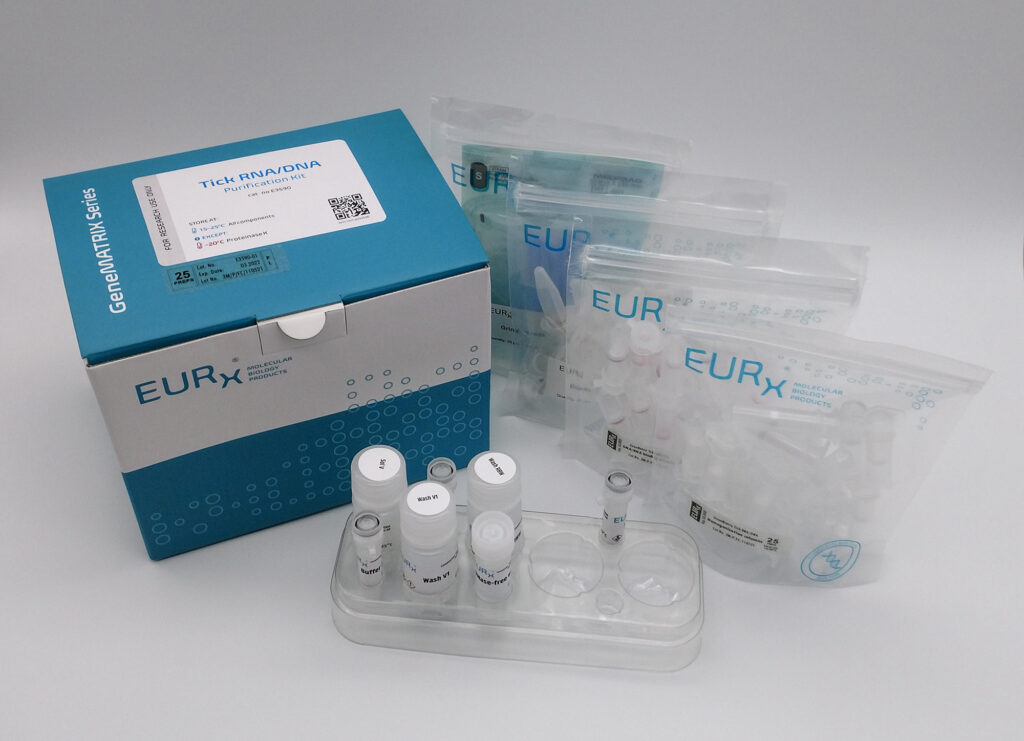 GeneMATRIX Tick RNA/DNA Purification Kit is designed for simultaneous isolation of viral and bacterial RNA and DNA that live in small arachnids or insects.
The kit is optimized for the isolation of RNA and DNA from microorganisms (bacteria, viruses, fungi) that live in small (up to 5 mm long) arachnids or insects. A simple protocol enables a fast isolation. The first step is the efficient fragmentation of the arachnid/insect with the use of Tissue Grinding Tool. Then the material is lysed and filtrated. The addition of carrier RNA supports the binding of even small amounts of viral and bacterial nucleic acids. During short centrifugation RNA / DNA binds to the membrane. Unbound impurities remain in the column flow-through.
Traces of contaminants remaining on the membrane are efficiently removed in two wash steps. The elution of purified RNA / DNA is carried out with RNase-free water. Purified nucleic acids have a length of over 25 nt (miRNA). Purified nucleic acids are free of proteins, nucleases, and other impurities and are ready for use in amplification reactions or storage at -20°C.
Kit content
Content
25 preps
E3590-01
Storage/Stability

Buffer A

0.75 ml

15-25°C

Sol V

6.5 ml

15-25°C

Wash V1

15 ml

15-25°C

Wash RBW

15 ml

15-25°C

Proteinase K (20 mg/ml

)

0.6 ml

–20°C

RNase-free water

4.5 ml

15-25°C

Carrier RNA

150 μg*

15-25°C

DNA/RNA Binding Columns

25 szt.

15-25°C

Filtration Spin Columns

25 szt.

15-25°C

Tissue Grinding Tool

25 szt.

15-25°C

Protocol

1
* Add 150 μl RNase free water to the tube containing 150 μg lyophilized carrier RNA to obtain a solution of 1 μg/μl.